Work from anywhere capabilities are critical — in June 2021, two-thirds of Australians were working from home. The fast-paced digital transformation in response to the pandemic, along with a competitive market for talent, means businesses need cloud-based access with enhanced security and user experience (UX). Download the eBook or contact us to learn how to build a SASE toolkit with Outcomex and Cisco.
---
What is a SASE solution?
Secure Access Service Edge (SASE) is a holistic network architecture that integrates SD-WAN capabilities with cloud-native security functions. These include Secure Web Gateways (SWG), Cloud Access Security Broker (CASB), Cloud Firewalls (CF), and Zero-Trust Network Access (ZTNA).
SASE provides high-performance cloud access and multiple security functions at the edge without relying on a central HQ network setup that now acts as a bottleneck. It reduces complexity and improves performance by unifying networking, security, and identity.
Traditional traffic flows are tied to a single on-premises security stack, with the majority of applications based at the data centre or HQ. Traffic flows from branch offices and remote users linked back to HQ through MPLS and VPN connections where the security stack was located.
As organisations have rapidly digitised their operations, the location of data and type of network traffic has changed. The majority of the traffic is now internet-based through private clouds, SaaS, laaS and browsing — and that internet traffic needs to be secured.
---
What components make up a SASE toolkit?
It's inefficient and expensive to drive cloud-based traffic back to a central data point. SASE enforces security protection and seamless user connectivity through multiple components.
Our staged integration of these components gives your organisation time to adapt and manage change for user buy-in. Here are the SASE components you can adopt over time:
SD-WAN
Umbrella
AnyConnect
Zero Trust Network Access by Duo
Thousand Eyes
---
1. SD-WAN
SD-WAN next-generation networking technology is the first step in implementing a SASE toolkit — 80% of organisations have already started or implemented SD-WAN. Adopting SD-WAN provides an extensive security overlay of all traffic. Whether it's from a user to the data centre, to the cloud, from work – it doesn't matter. Instead of running that traffic back through a HQ based security stack, SD-WAN can do this at the cloud edge. SD-WAN uses automation and central orchestration to deliver rich analytics.
---
2. Umbrella
Cisco Umbrella is a Secure Internet Gateway platform providing the first line of defence, no matter where your users are — it's the cloud-native, multi-function security service as the core of your SASE toolkit.
Every time you visit a website, Umbrella checks if the site is secure by looking at phishing links and prohibited categories. It's a highly configurable offering that secures your network regardless of where your users are logging in.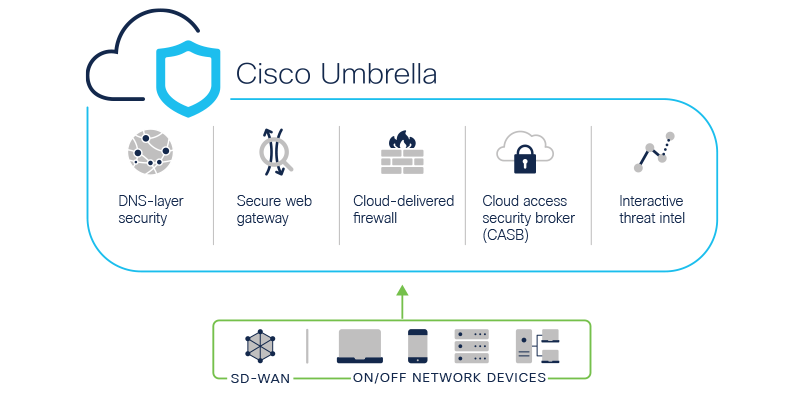 Cisco Umbrella SASE architecture approach with SD-WAN
---
3. AnyConnect
AnyConnect is a security endpoint agent that empowers remote workers with seamless, highly secure access to the internet or network from any device, at any location.
By adopting AnyConnect, organisations can achieve visibility over who and which devices are accessing their network.
---
4. Zero Trust Network Access by Duo
The three principles of Zero Trust are that users are verified explicitly, provided the least number of privileges, and there is always an assumption of a breach.
Cisco Secure Access by Duo offers a comprehensive Zero Trust Network Access Solution that continually verifies trust before granting just enough access to meet user needs. Described as a continuous 100-point ID check, it ensures the right users are accessing the right applications with the right amount of permissions.
Learn more about Cisco Duo
---
5. Thousand Eyes
Thousand Eyes brings visibility and analytics capabilities. This allows organisations to optimise performance of transport systems, even when they don't own the infrastructure common in cloud-based applications.
Thousand Eyes analyses and troubleshoots issues. It can identify that your DNS didn't work, or if the web server is down, or if the connection was slow for the user. It's a monitoring tool that provides a better UX and increases productivity by providing actionable insights that help resolve issues.
---
Learn how to build a SASE toolkit with Cisco and Outcomex
As work from anywhere models continue to thrive, the next 12-24 months will see an uptake in mass adoption of SASE systems as businesses look to mitigate risk through secure, compliant systems.
Change is complex. When your organisation is ready to make the shift to a SASE framework, talk to Outcomex about implementation of your SASE toolkit and ongoing support for your SASE investment.
Outcomex is a Cisco Gold Integrator. Our long-term partnership with Cisco means we know their products and how to implement them for maximum value.
Download the eBook: Realise SASE your way with Cisco
Does SASE sound like a fit for your organisation? Complete the form below to download the "Realise SASE your way with Cisco" eBook, or contact us to learn how to build a SASE toolkit.