Passwordless authentication isn't just a nice-to-have — it can improve an organisation's security posture and reduce costs associated with password management. Passwords create higher friction for users, slow down business productivity, and can be a weak form of user authentication.
Plagued with problems, passwords are an insecure factor for identity verification. Companies can benefit by reducing the impact of these influences:
Passwords are costly and burdensome to manage. Password resets form a significant portion of IT service desk requests, driving the cost of service.
Passwords cause poor user experiences. Users, including your customers, are frustrated when they're locked out of their accounts. In addition, there is an efficiency impact for employees who are unable to log in and get to work.
Passwords are easily compromised. Password-related threats are commonly used by attackers, including exploiting stolen or weak credentials.

---
Minimising password fatigue
Password fatigue occurs when users need to remember and use an excessive number of passwords regularly. This can lead to risky password behaviours. For example, incorrectly storing passwords or using deliberately weak passwords. A study conducted in 2019 by Google identified that 52% of people use the same password for multiple online accounts.
Forget your password and increase security
Most ransomware attacks start with successful phishing campaigns. Companies frequently find themselves exposed to risk because of compromised passwords. Going passwordless can make companies less likely to become victims of ransomware attacks.
Passwordless authentication establishes a strong assurance of a user's identity without relying on passwords, with alternatives such as biometrics, security keys or a mobile device. Duo is innovating towards a passwordless future, that balances usability with stronger authentication. As explained at the Gartner Security & Risk Management Summit, 2019:
In an effort to combat hackers who target passwords to access cloud-based applications, passwordless methods that associate users to their devices offer increased security and usability, which is a rare win/win for security.

Peter Firstbrook, Research Vice President, Gartner, Inc.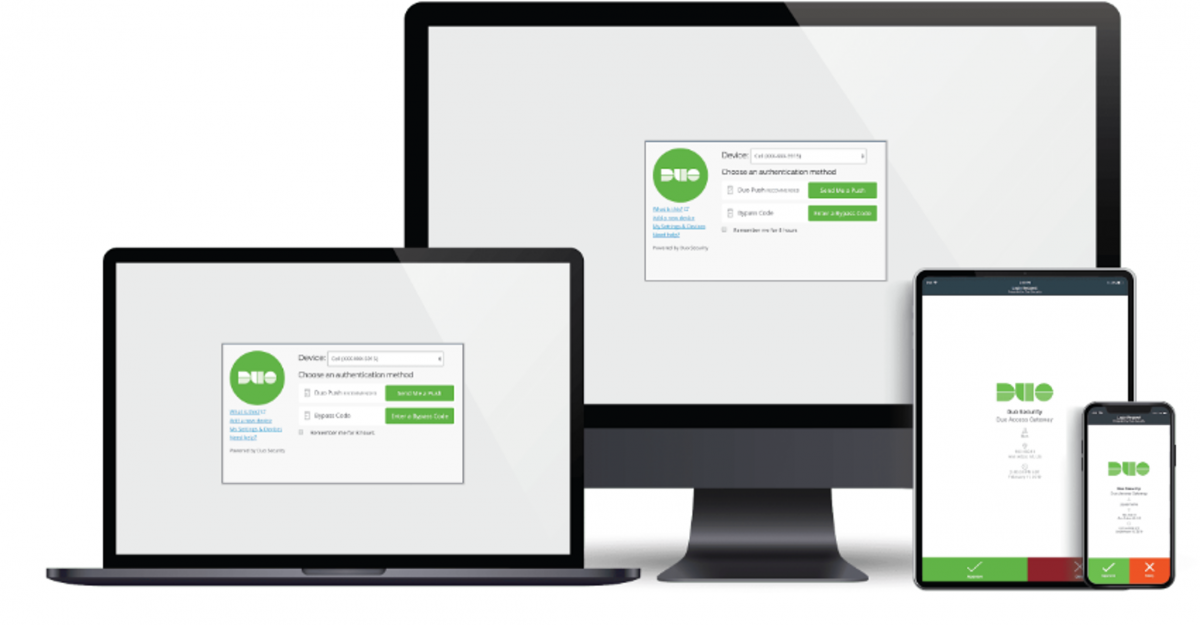 ---
The journey to passwordless starts with Cisco Duo
Today, many passwordless vendors only enable a password-lite experience for users through single sign-on (SSO). However, these piecemeal approaches can leave security gaps while not fully solving the weakness of passwords.
Passwordless is a journey requiring incremental changes in users and IT environments alike. Duo can help enterprises transition to passwordless securely while reducing authentication friction and simultaneously increasing trust in every authentication along the way.

Wolfgang Goerlich, Advisory Chief Information Security Officer, Duo Security at Cisco
Passwordless point solutions today do not solve for every common use case across modern enterprises, causing critical gaps in access security. The Duo and Outcomex team suggest the following approach to a passwordless future:
1. Identify passwordless use cases and enable strong authentication
2. Streamline and consolidate authentication workflows
3. Increase trust in authentication
4. Provide a passwordless experience
5. Optimise the passwordless toolset
Learn more about Outcomex's cyber security capabilities.
---
Start your free trial of Cisco Duo
Sign up for a free 30-day trial to get full access to the features of Cisco's Trusted Access suite. Start securing your users in minutes using Duo MFA. To extend your 30-day free trial to a 60-day free trial, reach out to the Outcomex team.
---
Contact us about your passwordless journey
We are proud to offer Cisco Duo to our clients, and have a history of successful Duo deployments. Reach out to us for more information about passwordless with Cisco Duo.
Outcomex is a Cisco Gold partner with Master Security Specialisation and were awarded Cisco 2020 APJC Technology Excellence Partner of the Year: Security. We are recurring winners of Cisco's ANZ Security Partner of the Year with awards in 2016, 2019 and 2020.