Outcomex Christmas Party 2019
With December comes the Outcomex Christmas party. Every year, it is an event to look forward to. It's been growing consistently as our team has gotten bigger. This time, we invited our 100 guests at the Australian National Maritime Museum in Darling Harbour for a 3-course meal filled with champagne.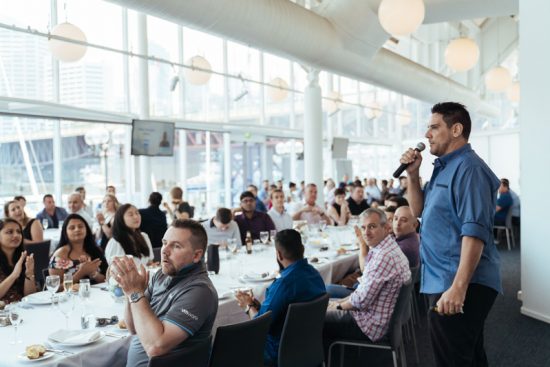 As is the tradition, the day started out with a presentation reviewing our team's accomplishments in 2019. It's hard to believe that in the last 12 months, some of our engineers have completed up to 27 projects! Out of our entire pool of engineers, 26 of them have completed over 10 projects. Outcomex's strategy has always been to hire senior engineers to guarantee a short delivery time to our customers. Looking at these statistics, it's clear that this strategy is working!

Marco Delgado, Outcomex's Managing Director, presented our revenue from July to November 2019, 2018 and 2017. The last few years have been marked by success; we witnessed a 19% year-on-year growth from 2017 to 2018, and a 17% growth from 2018 to 2019. In the last year only, this growth has generated a few significant changes at Outcomex:

– the expansion of our Managed Services department,

– the opening of our new Adelaide branch in September,

– and the launch of our Cisco's Umbrella cloud security platform with NAB.
The Outcomex Employees Awards
This success is attributable to the dedication and the capabilities of our entire team. As such, some team members received a special recognition during the Outcomex Employees Awards presented on that day. Awards were given out for the following categories: Sales MVP, Engineering MVP, Managed Services MVP, Inside Sales and Accounting MVP, Management MVP, Marketing MVP, and Emerging Talent MVP. While these awards were allocated by each department's manager, an additional category was added, the Chairman's Awards, for Marco Delgado to reward additional employees for their outstanding customer service and dedication. Every year, it is a challenge to choose the award winners as so many people deserve to receive them.
Following the presentation, Outcomex Employees Awards and the lunch, we all headed in the direction of the after-party held at Bungalow 8, just on the other side of the harbour.
We thank our special guests from Channel Seven, Cisco, Meraki, VMware, Ingram, Telstra, Vocus, Cohesity, and Seven Sounds.
We hope everyone had a great time and that we'll see you all at our next gathering!
Congratulations on a fantastic year team, and here's to more success for 2020!