Exponential growth for Outcomex
On 13th of May, the Outcomex Sydney team moved into a new head office, following several years of exponential growth. The new office space, located within the same building on Delhi Road, North Ryde, increases our seating capacity from 65 to 100.
Our new address: Suite 502/32 Delhi Road, North Ryde, NSW, 2113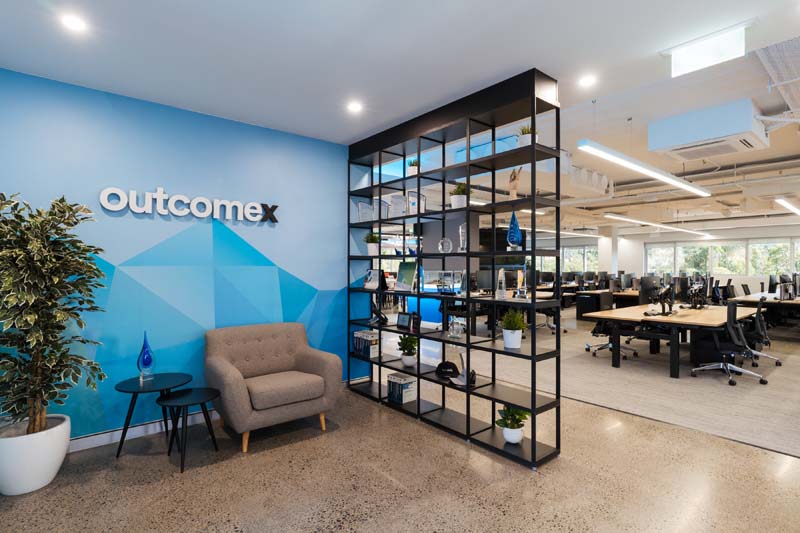 Our new location benefited from extensive renovations over the course of five months, with interior walls of three separate offices broken down to create the new 530sqm office space. One of these offices, interestingly, belonged to the alleged creator of Bitcoin. In 2015, Australian computer scientist Craig Wright claimed to have created the cryptocurrency under the pseudonym Satoshi Nakamoto. With Outcomex's reputation for innovation within the IoT space, it seems that creativity and ingenuity proliferate in the North Ryde office building.
State-of-the-art office
The new office is equipped with four meeting rooms, a staging room for engineers, and a dedicated Managed Services/Service Desk/SOC area, and a recreational area boasting a sports themed bar with dart board, pool table and beer on tap, specifically designed for team bonding and to entertain our visitors.
The office doubles as a showroom: Highlighting different state-of-the-art collaboration systems from Cisco and Microsoft in each of our meeting rooms and integrating our WorkplaceDeck IoT solution. This solution includes:
Environment monitoring (air quality, noise levels, and office temperature)
Electricity and water consumption
Virtual reception
Hot desking and meeting rooms' booking
Desk occupancy
People counting
Parking occupancy and booking system
Way finding (directions to where things and people are located in the office)
and a whole lot more!
Our new office is the perfect example of how we have integrated some of the products, solutions, and applications that we offer into a visible showcase. This space highlights how using technology in everyday life can create a seamless and productive environment – allowing for better outcomes and a smart workspace.
Future expansion
Despite the global crisis, our expansion continues at a steady pace. Moving from a 380sqm office to a 530sqm office means that we are now more than able to welcome additional employees in the not too distant future.