Storage is a key part of digital transformation that is often overlooked. Adding storage as a service (STaaS) to your storage strategy boosts business continuity and productivity by diversifying storage points to keep data safe, accessible, and on budget.
---
Storage often gets overlooked as part of digital transformation. Business success and growth depend on performance, scalability and agility; it's easier to keep paying the invoices than question the status quo when IT priorities are cybersecurity and data privacy.
But storage needs attention. Fast-growing applications demand you grow your storage space. Lack of database space can impact performance and put unpredictable demands on capacity and immediate storage resources. A diversified storage strategy incorporating storage as a service (STaaS) alongside on-premise and hybrid options is key to sharing the storage load to meet user needs.
Once the domain of smaller businesses that couldn't afford infrastructure, STaaS is now a crucial part of storage strategies focused on maximising efficiency, reducing costs, and driving growth. STaaS can shape your IT budget, help lock in security and data protection layers, and boost accessibility and collaboration.
Shape a smarter storage budget
Data doesn't come cheap. Using a consumption model switches storage to an operating expense where you pay for what you use — reducing the need for costly infrastructure and manual backups.
Hybrid cloud experiences demand less cash upfront and add financial flexibility with a mix of payment, subscription, and usage-based services. If cash flow is on your mind, you'll find a model that fits.
Look for a vendor that offers flexible capacity and pricing models without locking you into long-term storage leases.
Lock in security and data protection
Security and the protection and recovery of your data are paramount to every organisation. STaaS encrypts data during transmission, and at rest, so no one accesses your files without authorisation.
This type of storage model also acts to protect your data from natural disasters and human error. Whatever happens to your physical infrastructure, or whatever a user accidentally wipes, you have a backup stored on the Cloud for faster disaster recovery.
Take a snapshot for disaster recovery
STaaS opens up opportunities to snapshot to the Cloud. If you run enterprise storage on-prem, the snapshot copy uploads to the public Cloud. That's helpful for migration, and adds a redundancy layer — if someone sets fire to your data centre, you've got a copy in the Cloud. That means getting up to speed faster if there's an issue.
The automation capability of STaaS makes backing up even easier — and available on demand.
Access from anywhere
STaaS gives users the option to access data from wherever they're working — from your smartphone, tablet, laptop or desktop. Syncing via STaaS ensures files are automatically updated across devices, so you never get the outdated version of a file and collaboration works without a hiccup.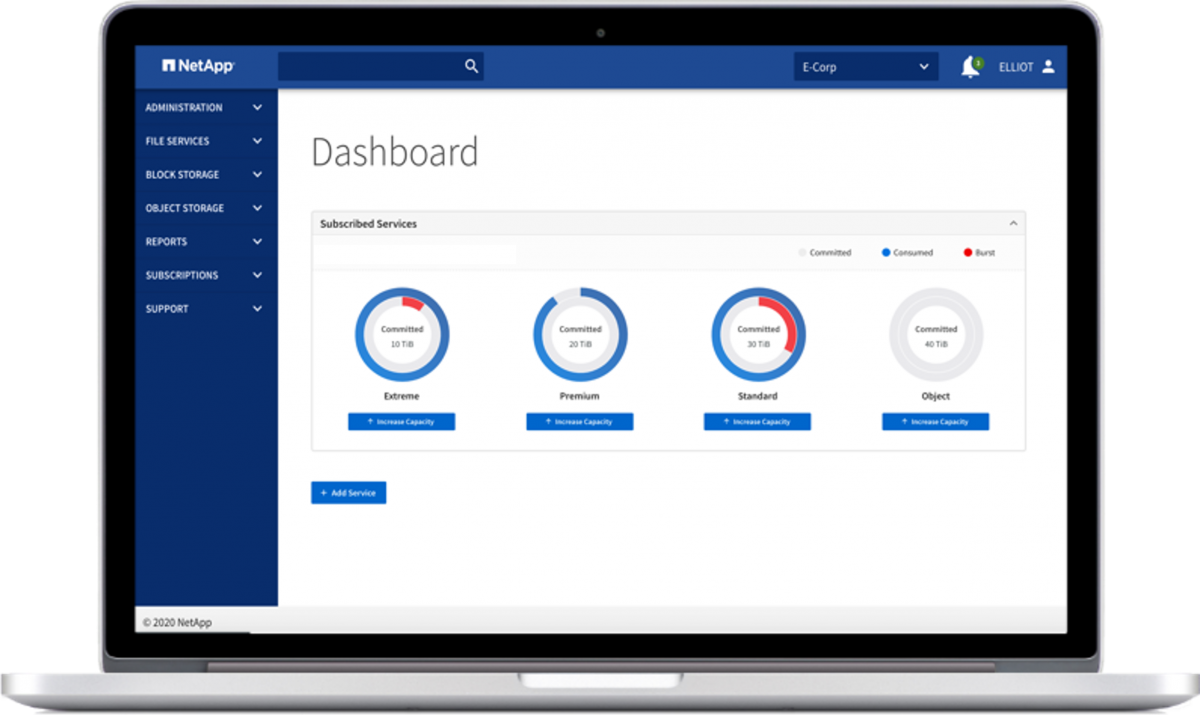 Empower collaboration and sharing
Online storage services let users share data in a few simple steps — and having data and documents in the Cloud is ideal for empowering meaningful collaboration. Everyone on the team can make real-time changes on a single file without keeping track of who has changed what.
Stay compliant
If your organisation manages compliance and regulations like GDPR, HIPAA or SOC-2, your storage environments can help you stay on the right side of the law. STaaS environments can automatically apply the security settings required to comply.
Not all 'as a service' models are created equal
Keystone by NetApp provides a unique as a service model offering a seamless hybrid cloud experience with cloud and on-prem storage services. Keystone features form a checklist of must-haves for your storage: Flexible finance – less cash up front and a mix of payment, subscription, and usage-based services.
Need operational and financial flexibility for your on-premise storage? NetApp Keystone Flex Subscription delivers.
---
Talk smarter STaaS solutions with the Outcomex team
Learn more about our cloud capabilities and diversify your storage strategy with the data and cloud specialists.
Get started on modernising and simplifying with our Data Centre Practice Lead. Contact Neehal Dass at neehal.dass@outcomex.com.au or fill out the contact form below to get in touch.