Keep remote workforces connected and collaborating effectively using the Cisco Webex platform and intuitive features for seamless engagement. A secure cloud meetings platform is increasingly critical to businesses in the 2020s. Businesses are reducing physical office space and optimising the physical spaces they keep for in-person collaboration and productivity.
To support the established work-from-anywhere mentality, employees must have access to feature-rich, intuitive collaboration tools to message, meet, call, share content, and collaborate from anywhere.
---
Attend meetings from anywhere
Only 9% of the workforce expect a full return to the office post-pandemic – 58% expect to work from home at least 8 days per month. Yet 98% of employees report frequent frustrations with video meeting tech. A cloud meetings platform enabled for the hybrid workplace offers choice on how they attend meetings and collaborate with colleagues.
Cisco's Webex Calling is a softphone with the same functionality, reliability and technical ability of a physical handset. With great quality video and audio from a headset device, the technology supports working from anywhere and a focus on productivity rather than proximity.
Empowering in-person collaboration
Hybrid workforces mean offices will be reimagined as collaborative spaces with technology supporting collaboration for those in the office or working remotely. Outcomex Collaboration Practice Lead, Barry Fialkov, says many businesses are looking to upgrade their office spaces to be more collaborative.
"The collaborative workspace is more about meetings rather than rows of desks," he says.
"Think of multiple modular meeting rooms, all connected with smart technology."
Cisco's Webex Meetings provides a reliable, secure link between staff, while the Control Hub captures meeting room use for ongoing space optimisation.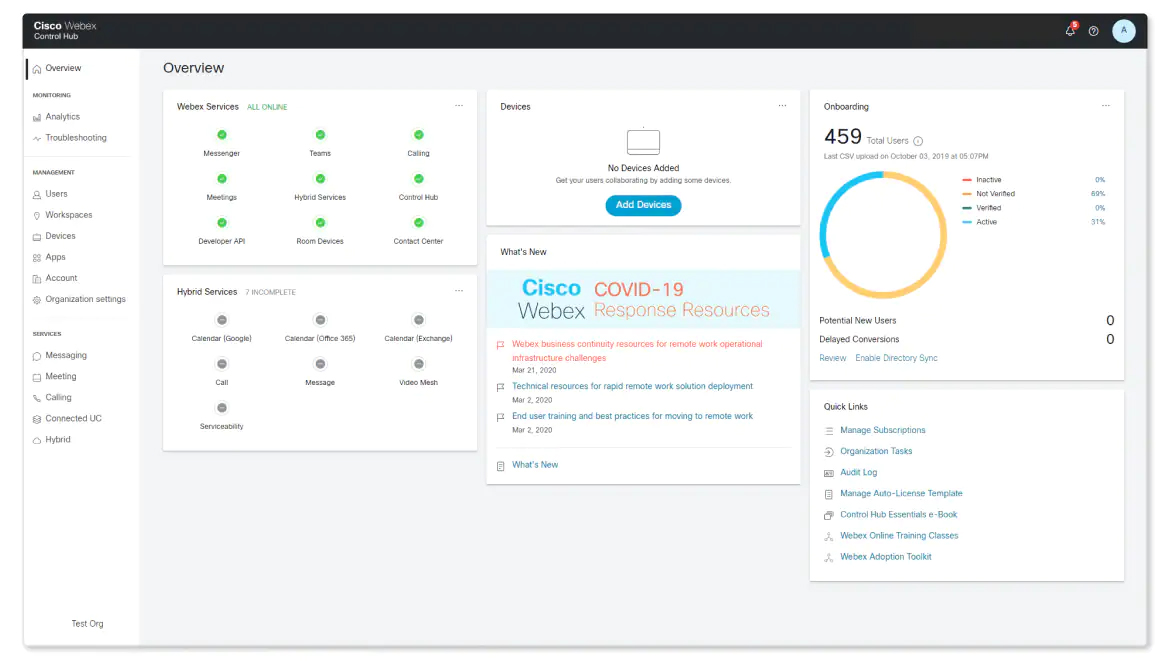 Webex Meetings Control Hub
Enterprise level end-to-end security
Security is critical to long term hybrid workplace strategies. Webex is enterprise-level with end to end security – and trusted across sensitive industries including finance and government.
"Most platforms wouldn't allow people to just join a meeting without the correct credentials, but it still happens," says Fialkov.
Cisco holds meeting platforms within the operating country for vital data sovereignty and encrypts meetings to block unauthorised access.
Ease of use
Moving away from hurried meeting platform rollouts as a tactical pandemic response, organisations are rationalising meeting technology for the long-term.
"Businesses are asking what their collaboration strategy looks like," says Fialkov.
"Does it make sense to stay where we are, or to move to something scalable, secure and providing the best experience across any number of devices."
---
Hybrid workplace technology
96% of businesses want to improve their work environments with intelligent technology. Employees who work remotely, or switch between home and the office, need software and purpose-built devices that empower team collaboration, productivity and a seamless experience wherever they log in.
Webex Calling's set of intelligent audio and video devices supports cloud, on-premises and hybrid deployments – and organisations can set up and support remote employees. With 99.99% committed availability via geo-redundant data centres, Webex calling harnesses media path optimisation to localise traffic. Decreasing bandwidth usage boosts call quality.
Webex Control Hub provides rich data on meetings and calling – what was the quality? How did users interact? Who joined and from where? This allows administrators to analyse how the technology is enabling team performance and each users' experience. Webex uses cloud-based technology to provide an employee experience traditionally only available in an office.
Know where your workforce is located
Webex's technology enables administrators to easily find where employees are working to enable access and collaboration.
Simplified meeting space bookings are available for managers to optimise use – some businesses find larger meeting rooms are better split into smaller modules.
Simplify with single vendor deployment
Partnering with a single vendor to create a collaborative, hybrid workplace simplifies deployment and ensures a perfect fit between components.
"A single vendor approach can really pay off in the collaboration space," says Fialkov.
"One vendor providing the in-room and platform experience allows for the best, most unified performance across devices."
---
Unlock the possibilities of the hybrid workplace with Cisco and Outcomex
Outcomex is a Cisco Gold Integrator. We hold Master Collaboration Specialization and have extensive experience with Cisco Contact Center. Our long-term partnership with Cisco means we know their products and how to implement them for maximum value.
Download the eBook: Connect with Cloud Calling
Future proof your hybrid workplace with next-gen technology supporting work from anywhere employee engagement and productivity. Complete the form below to download the "Embracing the hybrid workplace with Cisco Webex" eBook from Cisco, or contact us to learn how to start your journey.