Outcomex receives APJC Award for Technology Excellence Partner of the Year: Security at Cisco Partner Summit 2020
This week at Cisco's annual partner conference, held digitally, Outcomex was honoured as the Technology Excellence Partner of the Year: Security for innovation, leadership and best practice as a Cisco business partner across APJC.
Outcomex has been at the forefront of innovation around Cisco's Security portfolio; we have been working on several high-profile initiatives hand in hand with Cisco. Despite COVID-19, we were able to achieve a 256% revenue growth within our Cisco Security practice from FY18-19 to FY19-20.
One of the most exciting Security projects that Outcomex has worked on was partnering with National Australia Bank (NAB) to provide the bank's 400,000-plus small business customers with Cisco's Umbrella cloud security platform. This was a landmark deal in the ANZ region as the first Umbrella as-a-service deal.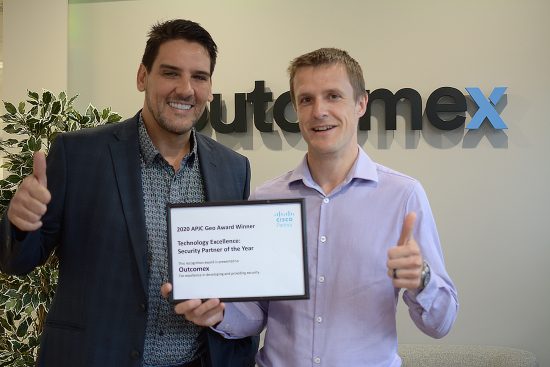 Marco Delgado, Outcomex CEO and Founder, with Dmitry Bukto, Cyber Security Practice Lead
Awarded to channel partners who rise to business challenges, the Cisco Partner Summit Digital Global awards are designed to recognise superior business practices and reward best-in-class methodologies. Areas of consideration include innovative processes, architecture-led successes, strategic business outcome-focused programs, seizing new opportunities, and sales approaches.
"Cisco is proud to work together with leading partners to drive the digital transformation, creating powerful solutions and fresh approaches to meet the needs of our customers," said Vicki Batka, vice president, Asia Pacific, Japan and China, Partner Organisation at Cisco. "It is an honour to recognise Outcomex with a Cisco Partner Summit Digital Geo-Region award as Technology Excellence Partner of the Year: Security, further underscoring its outstanding accomplishments in APJC."
See more Outcomex awards.