Outcomex awarded 'ANZ Security Partner of the Year' and 'ANZ Innovation Partner of the Year'
We've done it again!
On Friday, 6th March it was announced that Outcomex had won the ANZ Security Partner of the Year Award. It is now the third time Outcomex receives this honour.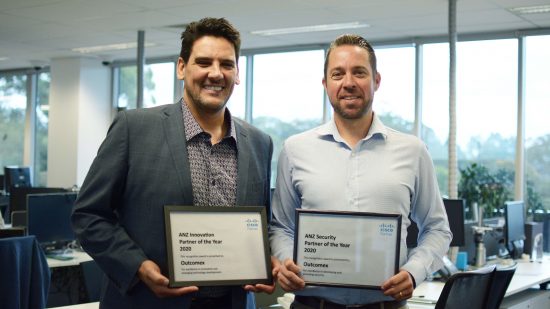 Marco Delgado (Managing Director), Michael Van Zoggel (National Sales Manager)
Outcomex differentiates itself by being the only partner holding the Cisco Master Security Specialisation in ANZ. Most recently, our team partnered with National Australia Bank (NAB) to provide the bank's 400,000-plus small business customers with Cisco's Umbrella cloud security platform. This was a landmark deal in the ANZ region as the first Umbrella as-a-service deal.
Outcomex was also named ANZ Innovation Partner of the Year for the second time. This award recognises our steadfast commitment to engaging with new solutions and emerging technologies, and our ability to deliver them to our customers.
We have been working hand in hand with Cisco since 2017 to develop IoT solutions adapted to various industries. Today, we are proud to have delivered successful IoT projects to several farms, councils, and food chains across Australia. According to Marco Delgado, Founder and Managing Director at Outcomex, Cisco's industrial networking series has proven to be the most robust and trustworthy IoT infrastructure available on the market. Removing complexity whilst delivering enterprise-class solutions based on Cisco technology is at the core of the Outcomex go-to-market plan.
Thanks to Cisco for their continuous support and we look forward to keep working together to deliver the best solutions and outcomes to our customers!