Outcomex wins Cohesity's Rising Star Partner of the Year 2021
At the Cohesity FY22 Partner Kickoff event, held on the 29th of September 2021, Outcomex was awarded the APJ Rising Star Partner of Year. This title honours Outcomex, recognising it for its extraordinary contribution to Cohesity's world-class ecosystem.
Honoured to receive the award, Outcomex looks forward to a great FY22 with Cohesity. "We anticipate a fantastic FY22 with Cohesity, continually driving our cloud program in alignment with their technology at Outcomex," says Outcomex MD, Michael van Zoggel, upon receiving the award.
Mike Houghton, vice president, global partner organization, at Cohesity said: "We would like to recognise our valued partners who have provided exceptional contributions to the Cohesity ecosystem, and most importantly to our customers in FY21. As a 100% partner-focused company, our partners are instrumental in serving and growing our joint customers by providing tremendous value and choice. We are closely aligned and deeply invested in our partner ecosystem, and it's exciting to work with our partners to help them grow their businesses."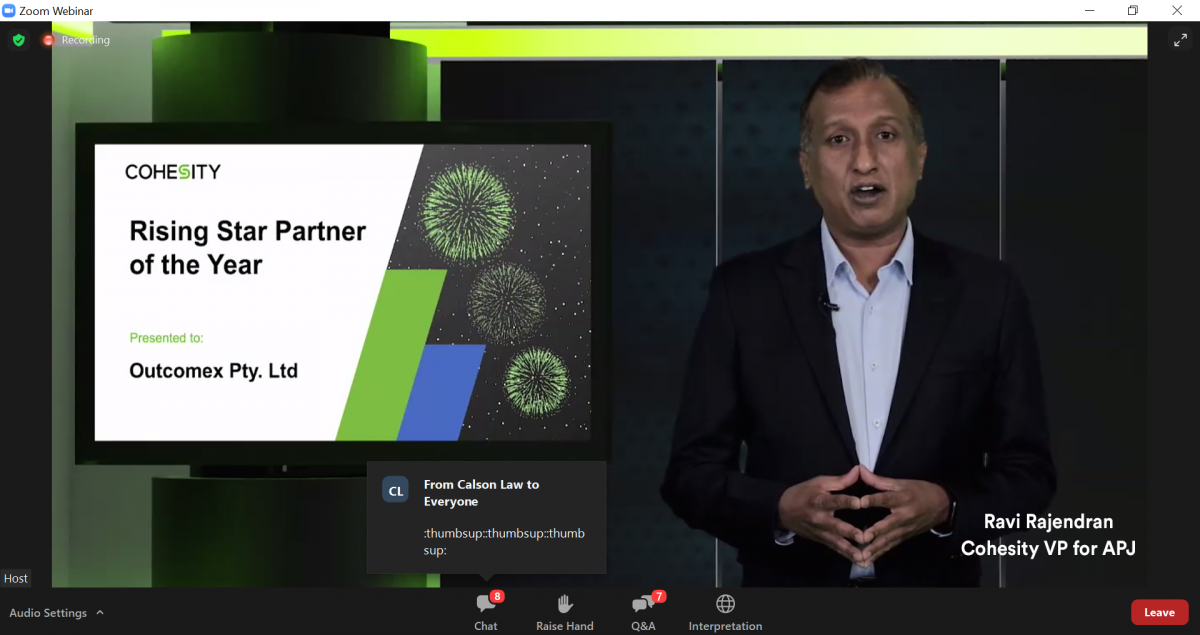 Outcomex places immense value on our partnerships, like those with Cohesity, to complement our data centre offering. As part of the Outcomex data centre practice, we have a dedicated team of highly certified engineers who are able to deliver all projects from the most simplistic to the complex, offering cloud and on-premise storage, backup, disaster recovery, orchestration, virtualisation and SAN services.
Through the integration between vendor technologies and platform providers, our experienced engineers provide architecture design that enable our customers to make informed and strategic choices that their enterprise requires.
Outcomex can help you effectively manage and secure your cloud storage, while equipping your business against cyberthreats and ransomware attacks.
See more Outcomex awards or read more about our data centre capabilities.