In case you haven't heard…
The All New Webex
is built to be 10x better than in-person interaction

Cisco Webex are bringing in 2021 with The New Webex (Launched at WebexOne) – a new series of features and capabilities on Webex that will augment your collaboration experience, no matter where you are!
If you are an existing Webex user, then you are ready for the transition to the New Webex!

Focusing on sync and async communication, enabling planned and spontaneous, and work quality over quantity, the team at Webex have redesigned the platform with AI capabilities and an ecosystem of integrations and apps to help you get your work done. With the wave of new Webex innovations to drive experiences, your team is professional, no matter where you work
Here are the new features that are now available and upcoming when you update to the New Webex!
A greater meeting experience!
Remove background noise from your video calls
Now your team can hear you clearly even with your pets in the background! Using Noise AI Capabilities, background ambient noise can be distinguished from human speech, so your background noise can be removed without effecting your voice.

Webex Meeting Layouts – Manage your visual stage
You can now easily control and customise the visual layout of your screen while in a meeting. Choose how you want to see your participants and prioritise screens based on what suits you.

Webex Meeting Templates
With the new virtual work culture, meeting schedules can fill up quickly and sometimes we just don't have time to waste. Organising the right type of meeting for your purpose is now made easy with Webex meeting templates. Templates include:
Quick Sync meeting: Hold a quick meeting with a hard stop, where problems meet purpose.This template allows you to set a timeframe for meetings so you can start and end on time and stay focused on the topic on hand.
Round table meeting: A meeting where everyone has a voice. This template has a solicited meeting structure where time limits can be allocated to participants, allowing all participants equal speaking time.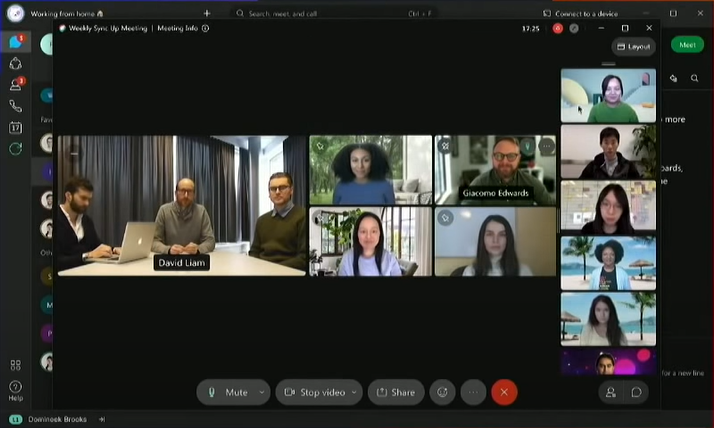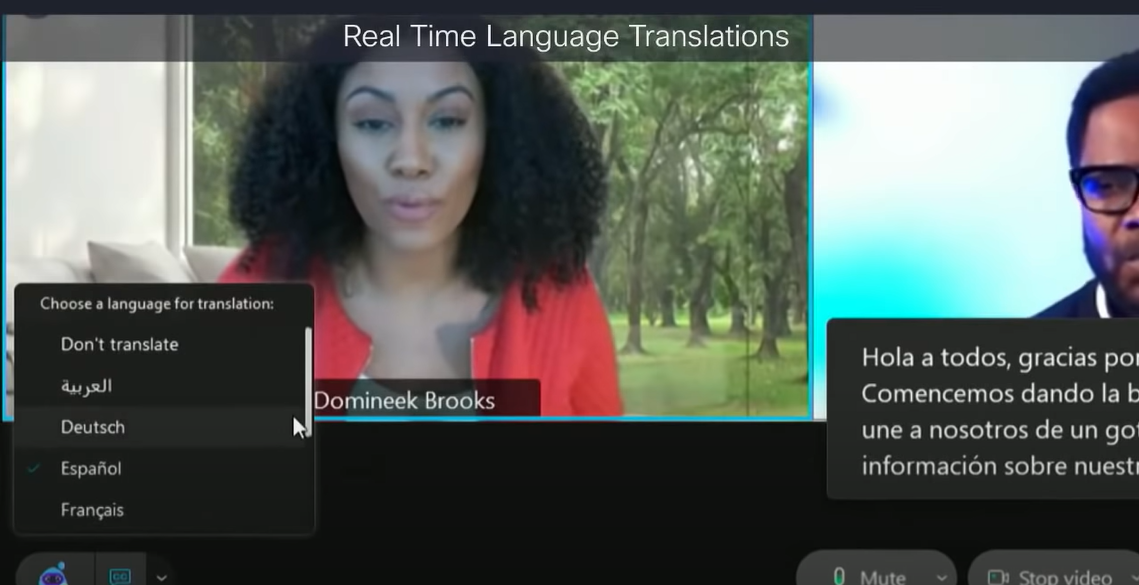 Real-time captions and Language Translation
Webex has the first In-meeting Assistant to provide live close-captions during meetings in multiple language capabilities (currently with the top 15 most spoken languages), allowing people who speak different languages or who have hearing disabilities to collaborate.
Post Meeting highlights
Webex Assistant now captures the important parts of your meetings for easy recapping. With features such as transcription and timestamping, meeting highlights and action items can be automatically emailed to all participants after the meeting.
Gesture detection
Feedback on your presentation can now be enjoyably delivered! Webex AI now detects your participants' natural body and facial language to provide real-time reaction Animoji's.
Huddle Feature
When a new idea suddenly pops up or a decision needs to be made quickly, the Huddle feature allows you to quickly call up specific team members into an impromptu conversation. With Huddle, you can spontaneously work face-to-face with anyone, virtually.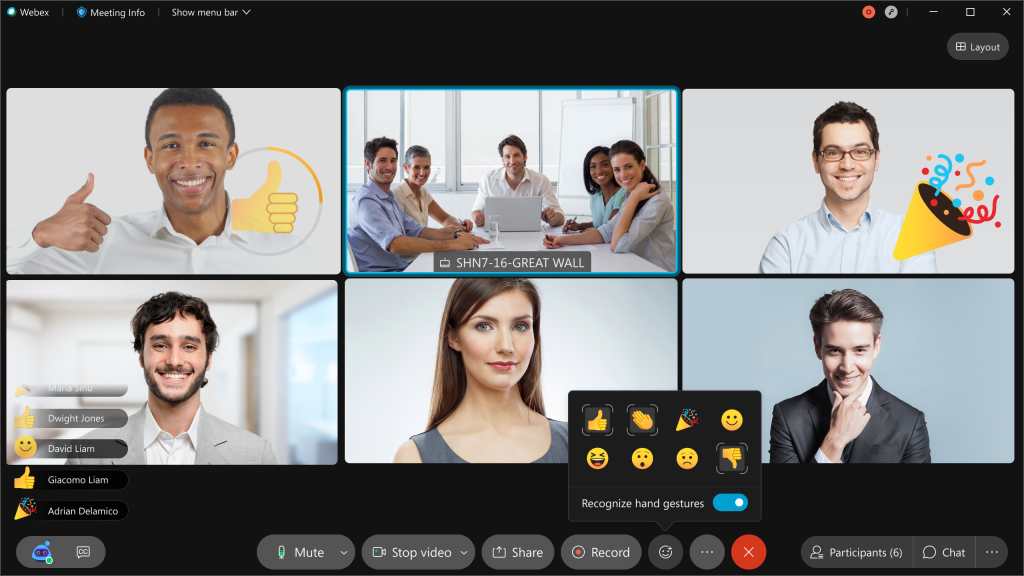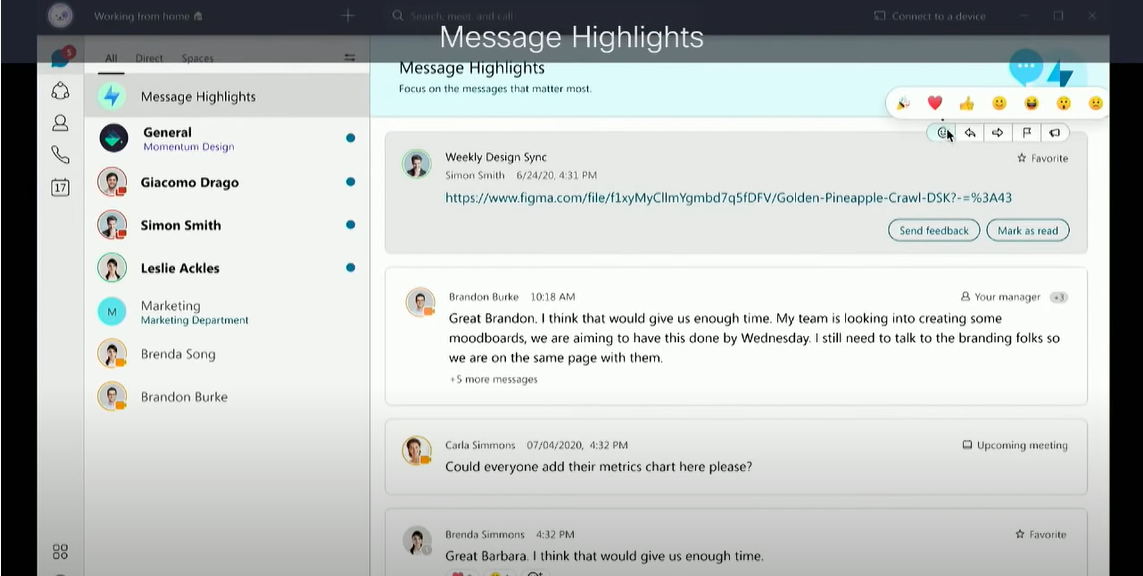 Messaging
Personalised messaging
From cover photos to colour themes and cobranding options, the New Webex personalisation features let you insert images and colours to fit your style at work!

Message highlights
Here, important messages rise to the top. Webex Assistant can now highlight and prioritise messages from certain people or subjects, allowing you to filter your messages and work more productively.

Webex Events. And now, Webex Webcast
With the capacity to host up to 25k attendees, Webex Events now has new interactive features which include Live transcriptions, Panelist lobby, Producer layouts, Moderated Q&A and Breakout sessions. In conjunction, Webex Webcasting is a second mode of holding large events. For events where less interaction is required, Webex Webcast allows you to broadcast live messages and showcase promo videos to up to 100k attendees.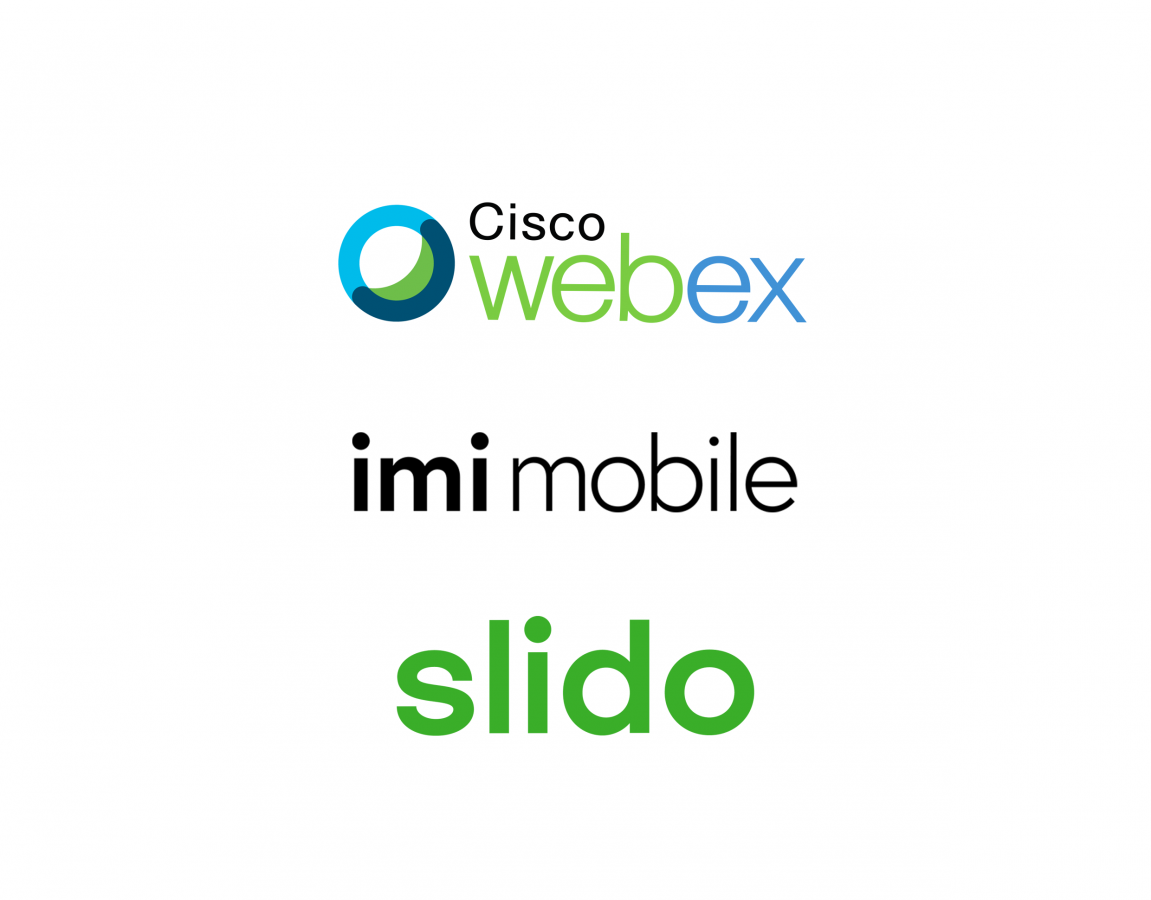 The New Webex Contact Center
Webex have redesigned Webex Contact Center to become omnichannel for a more intelligent customer experience. Now integrating other platforms such as WhatsApp, Facebook and Twitter, your team and customers can have the power to communicate efficiently across different channels, all on one interface.
With their pending acquisition of IMImoblie, Webex Contact Center will be taken to a new level. Webex Contact Center will offer a truly configurable, end-to-end customer interaction management solution.

Read about Outcomex's Cisco Contact Center Enterprise Authorisation

The New Webex and Slido
With their intent to acquire Slido s.r.o to enhance the meeting experience, Webex will soon offer a best-in-class audience engagement platform that significantly heightens participant engagement before, during and after meetings and events, across in-person and virtual audiences.
(Slido logo)
People Insights powered by Webex Graph
People Insights aims to deliver highly personalised insights and actionable recommendations to help drive well-being, keep employees connected and foster inclusive collaboration.
Using AI, Webex Graph takes inputs from across the suite and your online public footprint to build rich understanding of you. As a result, Personal Insights will show you how you are spending your time, and Team Insights shows if your team is building the relationships it needs to be successful.
New Devices: Webex Desk Series
While others return to the office, for some, working from home has become a new norm. Adding to their integrated devices portfolio, the Webex Desk Series has been designed for the new hybrid workspace.
The Webex Desk Camera: An intelligent, powerful, and affordable new camera built to enhance the remote meeting experience.
The Webex Desk Hub : This innovative device seamlessly connects to your personal profile, allowing you to make any hot desk as functional and familiar as your own.
The Webex Desk/Webex Desk Pro: An all-in-one device offers many of our most popular Desk Pro features at a competitive price, allowing you to connect and collaborate with ease.
The Webex Wireless Phone: Designed specifically for critical frontline workers, this rugged phone provides secure video, voice, and text conversations in even the most challenging of environments.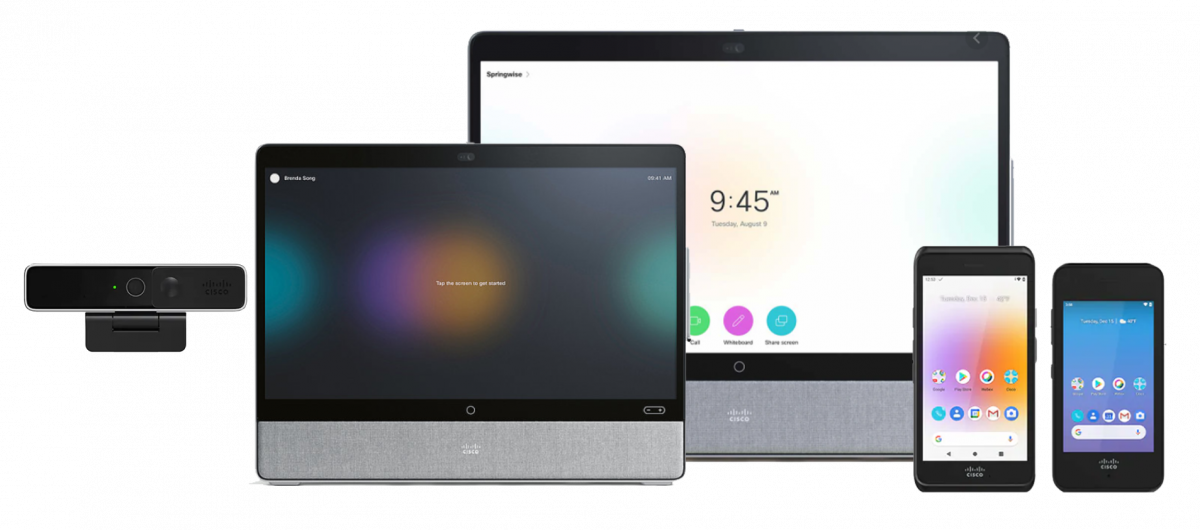 Webex Desk Camera, Desk, Desk Pro and Wireless Phone
Keeping your Webex secure
With Webex's security proficiencies, have the peace of mind that your information and platform is safe with:

Deep end-to-end encryption and secure identity
Webex is setting the bar with their standards-based secure end-to-end encryption and secure identity for cloud connected Webex devices, meeting recordings, and transcriptions.
Comprehensive data loss prevention (DLP) across the Webex platform
This has been expanded to meetings, to prevent prohibited content from being spoken, shared, or shown – protecting your information and your employees.
Ethical Walls
This Webex capability allows IT admins to restrict teams from collaborating when necessary. It is designed to protect interaction between groups and ensures that you and your teams always adhere to regulatory policy requirements when sharing information.
Read more about Webex Security here
Get The All New Webex now
If you are an existing Webex user ready for the New Webex, we can help!
For assistance or more information, Contact:
Your Outcomex Account Manager
or
Email us at : sales@outcomex.com.au
or
Barry Fialkov
Collaboration Practice Lead, Outcomex
Mobile: +61 431 205 806
Email: barry.fialkov@outcomex.com.au