As the rise of work from anywhere continues, businesses are adopting cloud-based access, fast. Traditional setups are seeing increasing security breaches at the compromised network edge. Secure access service edge (SASE) provides enhanced security and better user experience no matter where your users are connecting. SASE is not a product – it is a framework coined by Gartner that improves network security using integrated security components.
---
What is secure access service edge?
Secure access service edge (SASE) is a holistic network architecture that addresses networking, connectivity, security, and visibility. You can't just switch on SASE: to transform the network security environment, organisations adopt multiple solution components. SASE protects both on-premises and cloud architecture to empower work from anywhere, and any device, securely and efficiently.
How does SASE manage internet-based traffic?
Traffic is mostly internet-based: 45% of requests to access protected apps come from outside business walls. 64% of organisations believe that network security is more difficult than two years ago, and yet many organisations are still running remote and branch location traffic back through data centre headquarters where their security stack lies.
With the changing traffic and application use, there is also a need to constantly update the security stack at headquarters to protect data which can be expensive and time-consuming. SASE solves these issues by bringing security to the cloud edge. It's more cost-effective, easier to update when new threats emerge, and supports new ways of working.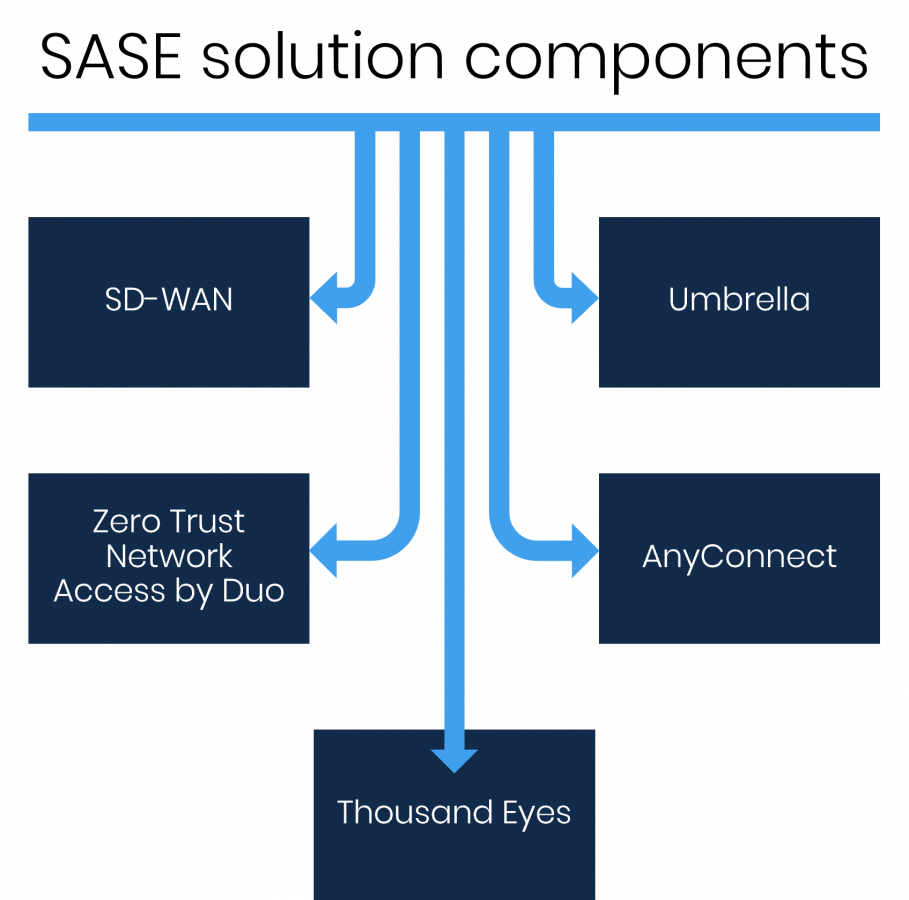 A SASE solution comprises multiple components
---
Why does my organisation need a SASE solution?
Workforces are becoming increasingly distributed and it's business-critical to have high-end application and data access anywhere, any time, from any device. Traditional networking frameworks that drive traffic back through a centralised HQ are expensive and can get congested. As more applications and data are hosted in the cloud, it makes little sense for traffic to be driven back to a physical HQ network.
Some users will head back to offices and the HQ data hub. However, businesses need a solution that caters for every type of working environment from head office, to branch locations to remote access from anywhere. This network accessibility needs to be cloud-driven and secure: a SASE solution.
1. How does SASE drive productivity?
SASE optimises performance by ensuring the fastest, most reliable, and secure path to cloud-based applications and data. The more efficient the system, the more efficient the user can be.
With SaaS applications now the core of business, rerouting SaaS traffic back to a data centre HQ on MPLS WAN links creates congestion, impacts user experience, and slows productivity. When a user is struggling with organisational-sanctioned applications not functioning well, they may turn to unauthorised apps to get the job done and expose systems to security risks.
A tool like Cisco's Thousand Eyes helps with observability to make sure users are getting the best experience possible. It's providing businesses with faster troubleshooting, gets down to granular capabilities, and enables organisations to rectify issues quickly.

2. Does SASE save money?
Changing transport from traditional MPLS to internet-based is a major driver for cost efficiencies. When most of the traffic is coming from the internet, transporting back to the data centre through MPLS circuits is costly — SASE provides a 65% lower cost of connectivity.
It all comes back to business productivity. If your organisation has a streamlined network wherever users need to work, they're going to get more done in a shorter space of time.
3. How secure is SASE?
SASE has multiple ways of addressing modern workplace security concerns. One of those is Cisco's Zero Trust as the ultimate ID check. It continuously checks the user identity and is far more effective and secure than multi-factor authentication.
Zero Trust provides only just enough access and just in time: it is a critical principle because if an organisation provides open access, it leaves them wide open to data breaches. If a user account is breached, the amount of information accessed by the attack is limited by Zero Trust principles. This limits the damage to just the information accessed by that user.
According to the Enterprise Strategy Group, the source of compromise for 68% of recent attacks were roaming users or branch location access. Attackers are aware of security weaknesses when it comes to the edge of traditional centralised network systems. SASE addresses this by bringing the security to the cloud edge and encompassing every access point from headquarters to roaming to branch locations.
---
Why choose Outcomex to build your secure access service edge solution?
Outcomex is a Cisco Gold Integrator and is Master Security Specialized. Our long-term partnership with Cisco means we know their products and how to implement them for maximum value. After implementation, we continue to support your SASE system to ensure superior network connectivity and security everywhere you need it to be.
Complete the form to download the SASE for Dummies guide
Does SASE sound like a fit for your organisation? Complete the form below to download Cisco's SASE for Dummies guide, or contact us to start the conversation.