Australian contact centres have increasingly moved offshore over the past decade as companies look to save on the significant overheads of large physical workspaces. As accelerated digital transformation has spurred a remote work revolution, many companies are bringing contact centres onshore with secure, reliable contact centre technology.
With the right tech partners, your staff – working from anywhere – can access collaborative agent engagement, better customer experience and increased productivity.
---
Agility supported by cloud calling technology
"Contact centre technology has drastically improved – workers can work properly from wherever they are," says Barry Fialkov, Outcomex's Collaboration Practice Lead.
While initial work-from-home responses anticipated a temporary shift, a new report from Australia's Productivity Commission says working from home is here to stay. Many businesses are assessing their cloud-based technology to ensure it empowers remote service delivery and uninterrupted access.
Cloud migration without infrastructure blowouts
Reliable, secure cloud-based call centre technology can unlock cost savings – without extensive infrastructure needs, organisations can redirect resource investment to work from anywhere employee tech and tools.
Cloud-based Cisco Webex Contact Centre adds a layer of quality control for remote work. Supervisors can use the efficient cloud-measurement tools to assess how their contact centre agent's customer service delivery – and agents can choose their location for a positive working environment.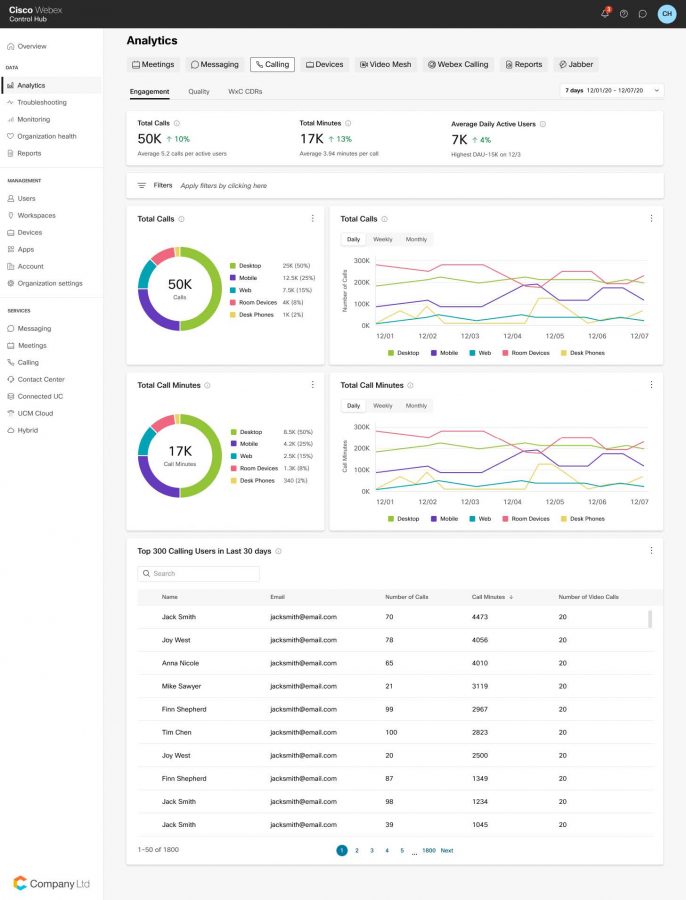 Webex Control Hub
---
AI-driven CX and productivity
Cisco's Contact Centre technology uses AI to streamline customer interactions. For example, healthcare contact centres use AI to screen the caller's needs and provide prompts for agents to better assist. Patients get fast, accurate advice and information.
Contact Centre puts choice in customer hands – they can engage via phone, email, message, SMS or social media. Cisco's inbuilt Experience Management software enables direct customer surveys across contact points for transparent customer feedback.
AI is also driving contact centre productivity. Advanced, affordable AI means simple requests like password resets and account balances don't require human capital – preventing lost productivity and allowing agents to focus on complex requests.
"The concept of AI in the contact centre allows for both simple and complex requests to be resolved more quickly" according to Fialkov.
Making the most of your workforce
Webex offers simple, affordable workforce management via digital scheduling. With the average call centre spending 65% of its budget on human resources, freeing up managers from scheduling to focus on CX analysis and continuous improvement better aligns with strategic business objectives. Cisco's Workforce Optimisation allows for schedule gamification so workers can juggle shifts without involving supervisors.
That frees those staff up to engage with agent analytics to optimise their agent workforce. Call Centre software allows for detailed call recording and quality management and sophisticated speech, desktop, and text analytics.
---
Cisco contact centre with Outcomex
Outcomex is a Cisco Gold Integrator. We hold Master Collaboration Specialization and have extensive experience with Cisco contact centre. Our long-term partnership with Cisco means we know their products and how to implement them for maximum value.
Download the eBook: Connect with Cloud Calling
Optimise call centre workforces, wherever they are. Complete the form below to download the "Connect with Cloud Calling" eBook from Cisco, or contact us to learn how to start your journey.