For the last three years, Exabeam has held the title of being a leader in the Gartner Magic Quadrant for Security Information and Event Management (SIEM).
In 2021, Exabeam, Outcomex's key cyber security partner in the SIEM and XDR space, focusing on security analytics, automating, and simplifying security operations, was once again named a leader in the 2021 Gartner Magic Quadrant for the ability to execute and for completeness of vision, placing highest for SIEM.
To be considered a leader in SIEM solutions, global research and advisory company, Gartner points out that the vendor not only has to take into consideration transformational technologies but also has to meet the future needs of end users by:
Collecting security event logs and telemetry in real-time for threat detection and compliance use cases.
Analysing telemetry in real-time and over time to detect attacks and other activities of interest.
Investigating incidents to determine their potential severity and impact on a business.
Reporting on these activities.
Storing relevant events and logs.
Gartner further explains that to be a leader means that "SIEM vendors that show the highest degree of market understanding can adapt to customers' requirements in areas such as early targeted attack and breach detection, as well as simplified implementation and operation, while also meeting compliance reporting requirements."
Renowned for being a top SIEM specialist, it is not hard to see why Exabeam has received this title yet again. Exabeam's vast array of offerings not only makes use of transformational technologies by creating tools and systems to enhance businesses security posture and making security operations smarter and streamlined, but also aims to minimise SIEM operational overheads while making sure regulatory compliance and audit requirements are met.
---
Helping security operations become smarter
Exabeam help security operations and insider threat teams work smarter, allowing them to detect, investigate and respond to cyberattacks in 51% less time. Security organisations no longer have to live with excessive logging fees, missed distributed attacks and unknown threats, or manual investigations and remediation. With the modular Exabeam Security Management Platform (SMP), analysts can collect unlimited log data, use behavioural analytics to detect attacks, and automate incident response, both on-premise, or in the cloud.

---
Exabeam's SIEM solution
Available either on-premises, as Software as a Service (SaaS – on cloud) (Exabeam Fusion SIEM) or as a hybrid deployment, Exabeam's SIEM solution, and extended detection and response (XDR), will enable you to enhance your business' security posture by automating and improving threat protection, detection, investigation, and response (TDIR) within the IT environment, detecting security incidents that traditional tools do not see.
With the Exabeam Fusion SIEM, a cloud-delivered solution, you will be able to:
Leverage turnkey threat detection, investigation, and response.
Collect, search and enhance data from anywhere.
Detect threats missed by other tools, using market-leading behaviour analytics.
Achieve successful SecOps outcomes with prescriptive, threat-centric use case packages.
Enhance productivity and reduce response times with automation.
Meet regulatory compliance and audit requirements with ease.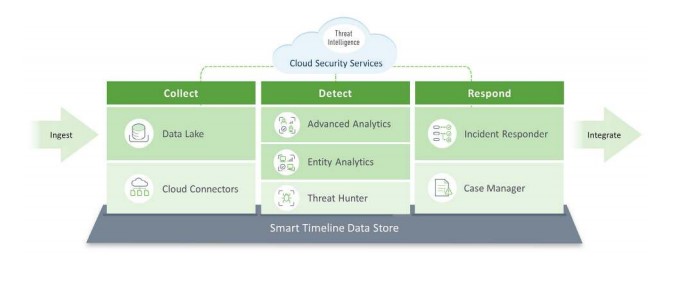 ---
Discover Exabeam's leading, modern security offerings with the Outcomex team
Exabeam is not only a SIEM leader, but its Security Management platform seamlessly integrates with Cisco security products. These products make up a fundamental part of Outcomex's security strategy. Together with Exabeam and Cisco, Outcomex can help deliver the best security solutions to customers.
Get in touch with us to learn more about our security capabilities and how we can help you streamline your security environment and ensure your cyber security strategy is responsive and effective.