Smart CityDeck does the dirty work for you, using the Internet of Things to inform waste management.
Community expectations for waste management are rising
In previous years, keeping bins empty and streets clean was enough to create community satisfaction. However, responsible and sustainable waste management and recycling is now a topical public issue. Government initiatives, such as the 2019 National Waste Policy Action plan impact the lives of your community. While they change behaviour with effective recycling, correct disposal of e-waste and reducing their food waste, they expect to see their council take initiative as well.
Waste management is an essential activity and a significant ongoing expense for councils and cities. Councils and cities need insights to combat the growing cost of waste management, whether it is managed in-house or by external parties.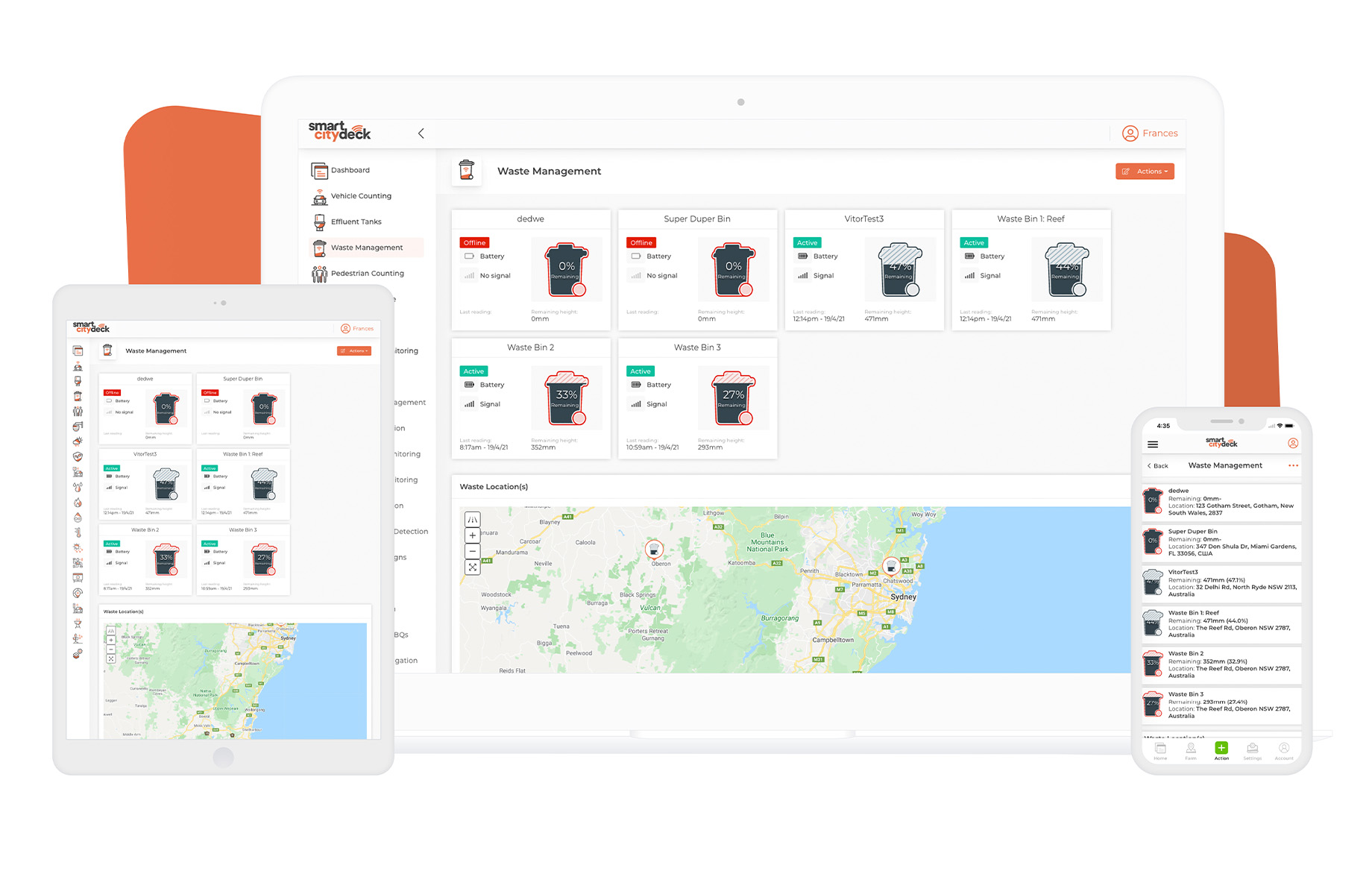 Connect your bins to the Internet of Things with Smart CityDeck
The Smart CityDeck Waste Management feature collects data using Internet of Things (IoT) sensors and presents information about current and historical bin capacity information. Using this stream of data, insights are made available in the Smart CityDeck application.
Understand in real time whether bins need to be emptied and avoid sending out cleaning crews when it is not necessary
Gain visibility over day-to-day cleaning and ensure scheduled activities are complete
Get to know community behaviour and adapt your waste management strategy based on popular bin locations and seasonal or time-of-day peaks
Smart CityDeck's Waste Management centralises and keeps a record of valuable data for long-term waste planning. Graphs for your locations are automatically populated in the map to indicate bin usage. Whether you're measuring the success of recycling initiatives or making decisions about outsourcing waste management, use real data collected for your council with Smart CityDeck.
Do you have more waste to worry about? Take a look at our Smart CityDeck Effluent Tanks capabilities.