Manage effluent tanks efficiently and reduce risk.
Reduce the cost and complexity of managing effluent tanks
When councils and cities manage effluent tanks, there is no room for error. To reduce the risk, tank checks or cleaning may take more often than necessary. This is costly and complex, requiring specific equipment to be available and skilled crews to travel to remote areas.
Outside of regular maintenance, any malfunction or breakage can have damaging effects on surrounding property and the environment. To decrease cost and decrease risk, councils can adopt Internet of Things (IoT) technology to better understand any effluent tanks under their jurisdiction.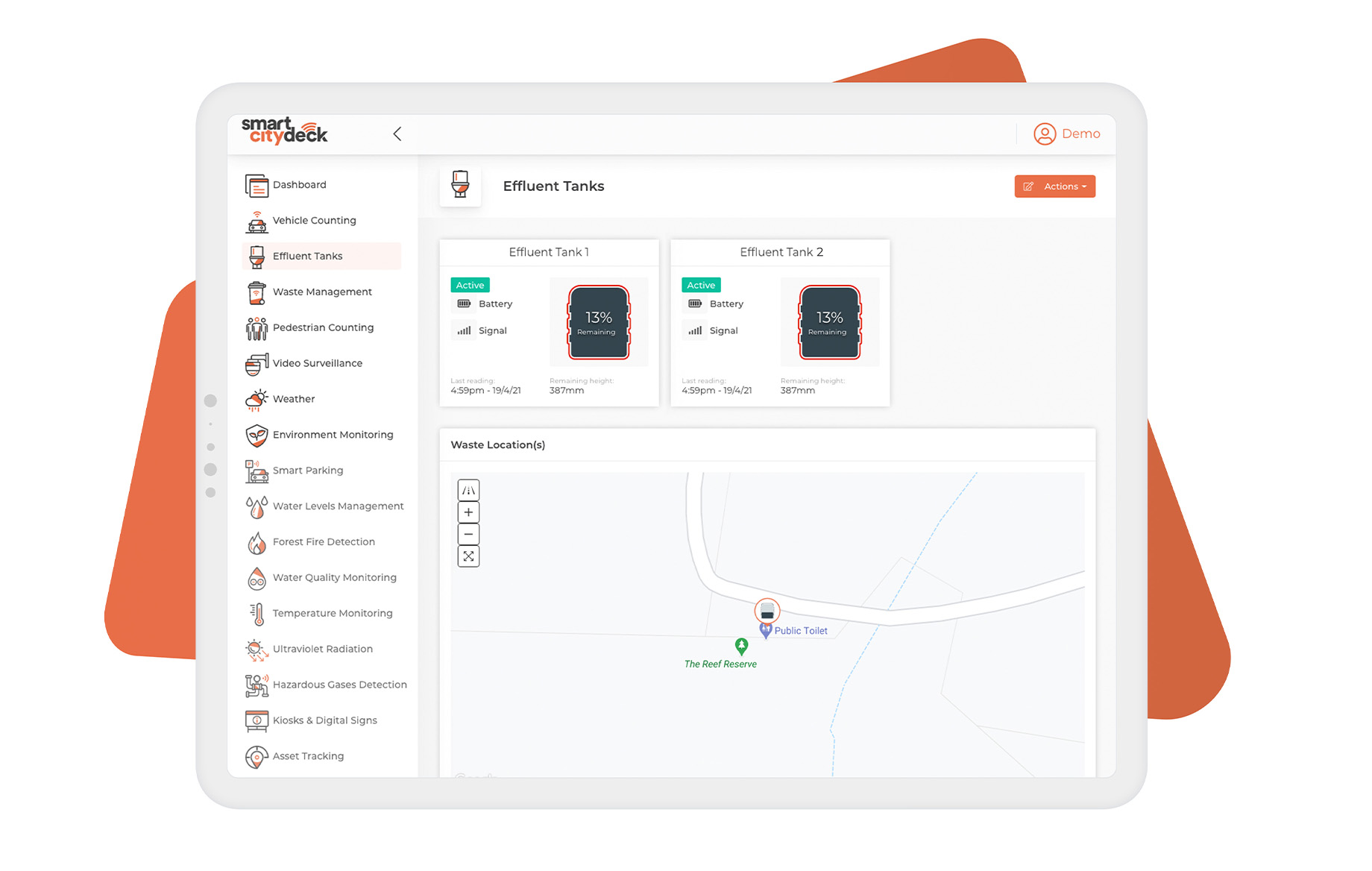 Real-time information in the palm of your hand
Smart CityDeck's Effluent Tanks monitoring capabilities take information straight from the source, by placing sensors on site to measure tank levels. Even in remote areas, Smart CityDeck can provide networking capabilities to connect your tank data to a user-friendly application where you can access consolidated information. This allows councils to view the following information:
Real-time effluent tank levels
Map of effluent tank locations and status on a map
Tank features, such shape, size and capacity
Historical data indicating tank volumes and when tanks have been emptied
Using Smart CityDeck, councils can optimise effluent tank cleaning and maintenance to avoid unnecessary callouts of specialist equipment. Collecting data unlocks further opportunities. For example, information about tank usage can inform decisions about bathroom opening hours and required cleaning. Early identification of anomalies, such as leaks, reduces serious damage to property or the environment. Reduce risk with the Smart CityDeck Effluent Tanks feature.