Smart CityDeck Pedestrian Counting keeps you connected to your community.
Thrive with community-centric decision making
Council and cities need to understand how local spaces are used to provide essential information for improved community experience. Pedestrian traffic records can be used for day-to-day maintenance activities, such as cleaning public facilities. This information is also important when deciding to invest in new or upgraded facilities, and for measuring the popularity of new council projects.
Pedestrian Counting provides valuable information, useful in a variety of scenarios, for example:
Determining cleaning schedules and opening hours for public bathrooms
Valuing recreation areas, such as outdoor gyms and fishing locations
Measuring the popularity of tourist attractions and lookouts
Distinguishing seasonal trends for a location, and adjusting maintenance and investment accordingly
Managing and measuring foot traffic at large events
Are you interested in monitoring vehicle movement, as well as pedestrians? Learn more about Smart CityDeck Vehicle Counting.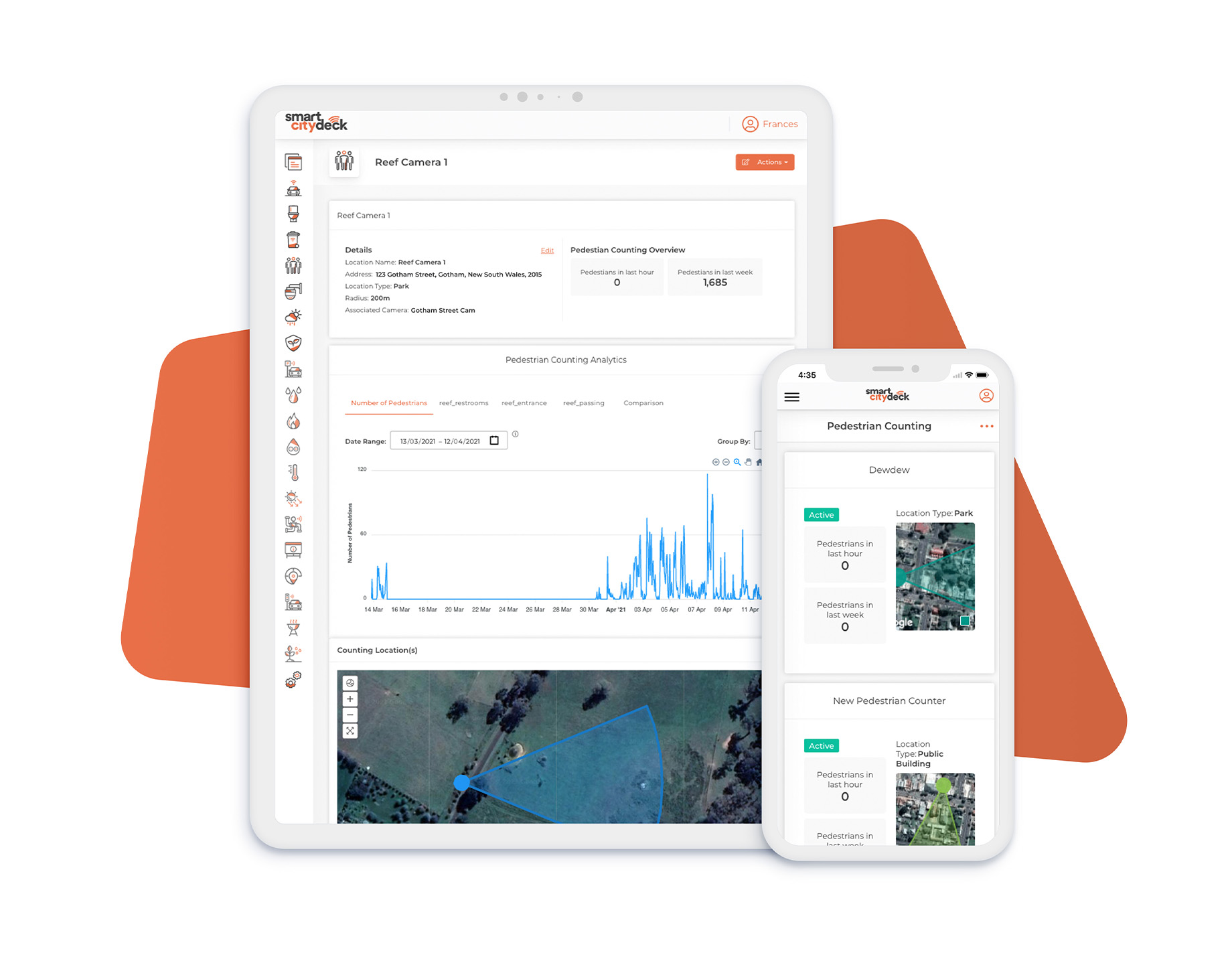 Gain insight into community behaviour with Smart CityDeck
Smart CityDeck Pedestrian Counting uses video surveillance to automatically identify people as they walk past a specified point, and keeps a count visible in the Smart CityDeck application. Use the Pedestrian Counting dashboard for a high-level view of location type, overview statistics, and a map of your Pedestrian Counting locations.
Look at detailed location information for a choice of hourly, daily, or weekly pedestrian count data and video live feed. The Smart CityDeck application also provides historical data, and allows you to use graphs to compare multiple walking directions at each location.
Read about the NSW Government's Smart Places boost to understand how you can get started.