Uncover the usage of your different circuits and keep track of your electricity consumption as you go.
Switch your data on to bring down your electricity usage
Using this FoodDeck feature allows you to track your electricity consumption as you go and can help avoid bad surprises when receiving your energy bill at the end of the quarter. Get to know how your restaurant or food preparation facilities comply with government energy efficiency programs. Look at your energy usage trends per circuit, during and after business hours, and see how you can reduce your electricity consumption.
Interested in IoT using for specific appliances? Take a look at our Cold Rooms & Freezers feature to monitor one of your most power-hungry appliances.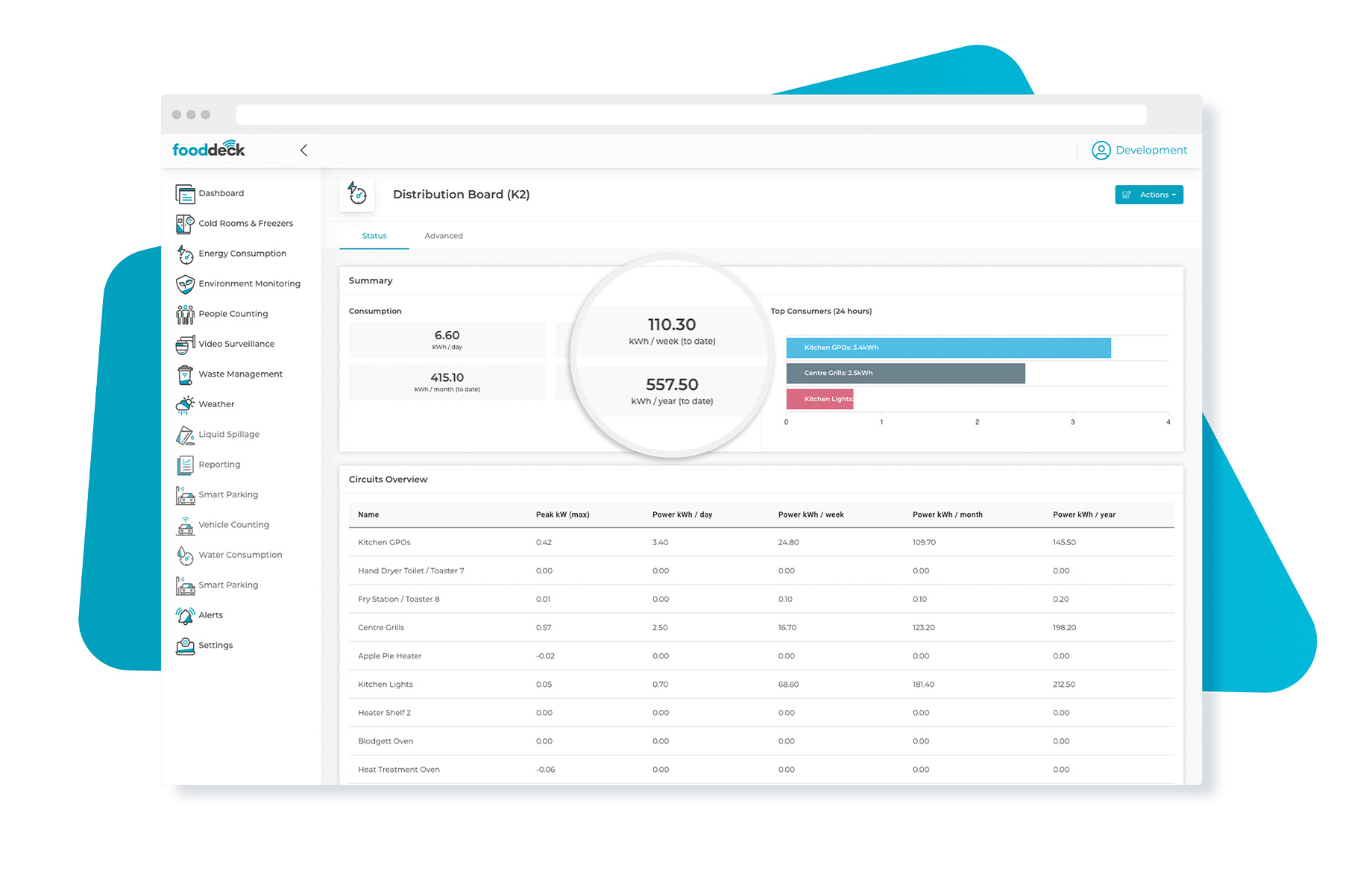 Watt your data can tell you
The FoodDeck Energy Consumption dashboard provides a summary consolidating your overall electricity consumption per day, per week (to date), per month (to date), and per year (to date). This data is also available for all individual circuits. Use the historical data available on our Circuits History graph to keep track of your business' energy cost and power usage trends. Interested in going a bit further? Our Advanced tab shows max voltage for phase 1,2,3, an historical view of the distribution board, and a circuit consumption history based on 17 different energy measurements, including Active Energy, Apparent Energy, Active Energy Max, Current, Reactive Energy Import and Export.
Energy Consumption insights can be used to:
Discover what your standby, after-hours, and/or overnight energy usage is.
Find out if bills from your energy company are inflated.
Uncover the usage of your air conditioning, lighting, grills, fryers, and more.
Know what behaviour change is required to substantially reduce energy consumption.