There are rising expectations for education institutes to help their students thrive. Ensuring campus safety, accessibility, and security are not only desirable but required by the students and the public. It is not easy for an organisation to manually collect information and gain visibility over their campus, however, this is essential in driving people-centric innovation. Use the Internet of Things to understand how spaces are used and manage the on-campus experience of your students and staff.
What is CampusOnDeck?
CampusOnDeck is an all-in-one Internet of Things solution, designed for the education industry. To provide an end-to-end capability, we deliver devices, connectivity, analytics, and a user application for monitoring your campus. Use this information to make positive changes at your school, university, or other educational institute. Here are some examples of how IoT can transform your campus:
Use people counting information to understand how shared spaces, such as libraries are used, and make decisions about seat numbers and opening hours
Identify how power is being used on campus to identify initiatives to improve your environmental footprint
Measure noise levels in study areas, so you can take measures to improve facilities and support student and staff well-being and productivity
Monitor classroom utilisation and make better-informed decisions about how to allocate facilities
Modern educational experiences require insight. For some interesting reading, take a look at this article from Study International.
CampusOnDeck takes privacy seriously. Keeping student and staff data secure, such as billing records and identifiable information, is critical to ensuring the ongoing success of your organisation. The Outcomex team has extensive security and education industry experiences – read about how we revamped security architecture at the College of Law.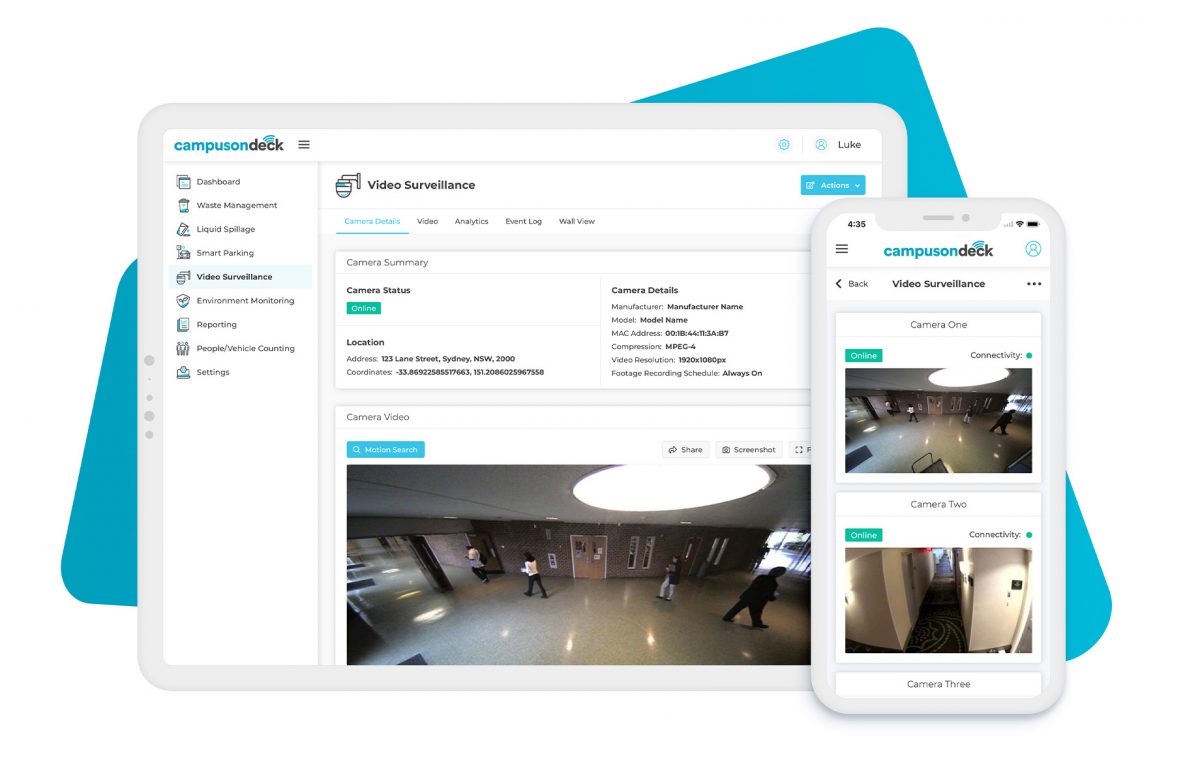 Features

People Counting
Students, staff, and visitors – monitor traffic on campus and understand how key spaces are used.

Energy Consumption
Gain visibility over energy consumption on campus and learn how you can reduce energy costs and improve sustainability.

Environment Monitoring
Unlock invisible data from thin air and gather real time information about temperature, noise, and air quality on campus.

Cold Rooms & Freezers
Use our Cold Rooms and Freezers capability to monitor your appliances, keeping your facilities compliant and safe.

Video Surveillance
Let our surveillance cameras keep watch and ensure the safety and security of your students, staff and visitors.