The 2017 NetApp Partner Awards saw NetApp recognise its committed partners by presenting awards for seven different categories. Outcomex is proud to have been nominated for 'Converged Infrastructure Excellence' and 'New Partner of the year', both prestigious categories in which Outcomex has had incredible growth and success in 2017.
We are very excited to announce that we are the 2017 'Converged Infrastructure Excellence' winner and finalist for the 'New Partner of the Year' award!
How We Won 'Converged Infrastructure Excellence'
Our first position in the 'Converged Infrastructure Excellence' category stems from the successful design and implementation of multiple holistic solutions comprising of FlexPod our team has delivered in 2017. We have implemented FlexPod solutions for Service NSW, Western Sydney Local Health District, Inverell Shire Council, Australian Capital Equity, and TAFE NSW.
The TAFE NSW Private Cloud project highlighted Outcomex' excellence in engineering by delivering FlexPod as the overarching Data Centre validated design, complemented by high end vendor components from the Outcomex ecosystem:
– Cisco UCS Compute
– NetApp All-Flash Storage
– Cisco HyperFlex Management Cluster
– Cisco Application Centric Infrastructure Software Defined Networking
– Cisco Tetration for Application Dependency Mapping and data flow visibility
– Citrix NetScaler for Server Load Balancing
– VMware for a centralized management application
– Vsphere 6.5
– VMware ESXi components
– Commvault Enterprise Backup Solution
From NetApp Authorised Reseller to Gold Partner in Three Months
Additionally, Outcomex is honoured to have completed its first full calendar year of partnership in order to qualify a nomination for the 'New Partner of the year' award. Having advanced from authorised reseller to gold partner in just under three months, Outcomex has moved quickly to strengthen the Outcomex-NetApp partnership.
Outcomex was congratulated by Glenn McPherson, Managing Director ANZ, Rick Scurfield, Senior Vice President, APAC, and Neville James, Director Channels & Alliances ANZ. We are honoured to receive the 2017 NetApp 'Converged Infrastructure Excellence' award and look forward to nurturing this relationship. Congratulations to all nominees and winners and a big thank you to NetApp for inviting us to be a part of this prestigious ceremony.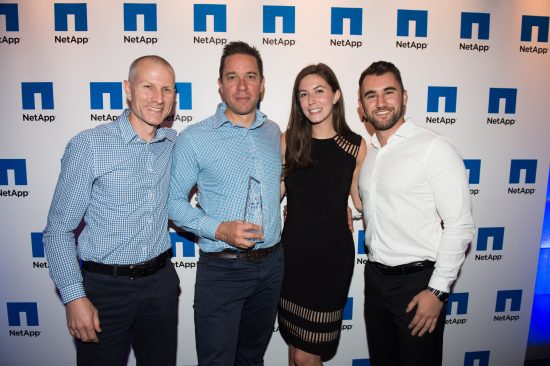 For the complete list of winners see: http://www.netapp.com.au/company/news/press-releases/news-rel-20171207-952722.aspx